Flamgard festivities – toasting 2019's successes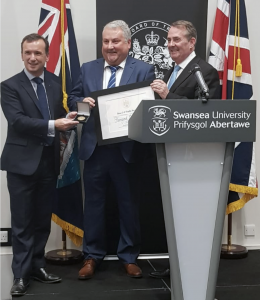 Flamgard Calidair has had a great deal to celebrate in 2019, and as the year draws to a close, we take a step back to reflect on a few of the highlights.
Flamgard Calidair Managing Director, Steve Edwards, receives an MBE
Having been named in the New Year's Honours List, Flamgard Calidair's Managing Director, Steve Edwards, went on to receive an MBE for services to the British Economy and Exports. Steve's investiture was not only a recognition of his own commitment and passion, it was testament to the innovation and successes of the whole Flamgard team – something that Steve was sure to point out.
Commenting on the award, Steve said, "The team is what has driven our business forward and given us the international growth that led to this."
Talking trade in Tokyo
In September, the Flamgard team headed out to Tokyo to take part in a trade mission alongside the Welsh Government – a visit that coincided with the Rugby World Cup. Situated in the temporary 'Wales Dome' in the heart of Tokyo, Flamgard showcased the opportunities involved in trading with Welsh businesses. It was also a chance for Flamgard to strengthen its ties to fellow businesses, authority figures and professionals from both regions, and enjoy a thrilling game in which the Welsh national team triumphed over Australia.
Winning early-works contracts on Hinkley Point C
Flamgard's HVAC expertise was recognised once more when the company was awarded multiple contracts for the supply and installation of damper products for Hinkley Point C in Somerset. Under the supervision of EDF Energy, two new nuclear reactors are being built which will provide low-carbon electricity to around 6-million homes in the UK.
The five contracts awarded to Flamgard represent approximately 41,000 manufacturing hours over the next three years, and are enabling the business to expand its staff, introducing three new team members dedicated to the Hinkley Point C project.
Putting on a show at Pacific 2019
Flamgard presented its latest HVAC solutions at the Pacific 2019 exhibition in Sydney. Exhibiting alongside its regional partners, Oceania Engineering, Flamgard showcased the importance of HVAC equipment in the marine sector, be it for naval, commercial or entertainment craft. Whilst in Sydney, Flamgard also took the opportunity to follow up on meetings with its infrastructure partner, Air Solutions, on the exciting prospects forthcoming in the area.
During all our overseas trips, spending quality time face-to-face with our global partners allows us to strengthen existing ties and form new relationships, and is a key part of our success.
Heralding HVAC success at ADIPEC 2019
In November, the Flamgard team – seasoned globetrotters by this point – travelled to Abu Dhabi for the International Petroleum Exhibition and Conference 2019. Flamgard exhibited as part of the Welsh Government stand, representing the strength of Welsh export business alongside fellow companies from the region.
Flamgard's CEO, Lee Bramald, and Business Development Director, Shuresh Maran, met with influential figures from across the globe, raising the profile for quality HVAC equipment.
After a fabulous year for Flamgard Calidair, the team will enjoy a few hard-earned festivities over Christmas before coming back raring to go in 2020. We wish everybody a happy holiday season, and we'll be looking forward to our best year and best decade yet in 2020!
Back to News/Blog