40 Years Apart – 2 Record-Breaking Projects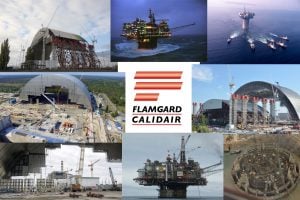 Throughout our history, we've worked on some of the most prestigious projects the industry has ever seen.
In 1978 we fitted Flamgard dampers to the Ninian Central Platform, a gigantic oil rig built in Loch Kishorn, Scotland. Following its construction, the platform was towed to the North Sea, where it calls home to this day.
At the time of construction, it was the world's largest man-made movable object, 140m in diameter, weighing 6000,000 ton. This project was an amazing success and one that we are very proud to have been able to contribute to.
40 years on from the Ninian Central Platform, we played a vital role in the Chernobyl New Safe Confinement project, installing nuclear grade dampers to ensure the safety of those working in the building. This project posed some serious health risks, as the area was still radioactive and required a level of caution to avoid any injuries.
Following the success of this project, we were recognised by many highly reputable organisations, like the Trade & Invest Wales publication that championed the team for its success. At the time of writing, The NSC building is the largest moving building ever made.
In the span of 40 years, Flamgard Calidair has been at the forefront of two record-breaking projects, both of which will go down in history.
1978 – We worked on the 'World's largest man-made moveable object'
2018 – We worked on the 'World's largest moving building'
Our constant focus on innovation, engineering excellence, and customer service is why we're the leaders in our industry, and the go-to company for high-quality dampers.
Click here to view our other projects
Back to News/Blog