Bonjour! We'll be at the World Nuclear Exhibition in Paris on 26th June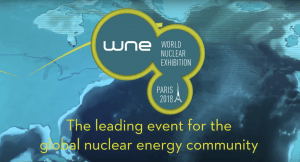 From June 26th to 28th, the beautiful city of Paris will play host to the greatest minds in the nuclear energy industry from around the globe, with the World Nuclear Exhibition.
Described as 'the first global energy community', the exhibition offers the opportunity for international businesses to meet, collaborate and learn together at a series of lectures, presentations and lunchtime debates.
Flamgard Calidair has an extensive track record in the UK and global nuclear sector and is proud to feature at the exhibition. We will be hosting a stand within the Welsh Pavilion, alongside businesses such as Huntingdon Fusion Techniques and even Acorn Recruiting.
Flamgard Calidair managing director Steve Edwards comments: "This exhibition is an exciting opportunity to bring all the top nuclear energy scientists, engineers and entrepreneurs together in one venue, and we're delighted to be able to make an impact there ourselves.
"We are looking forward to discussing our extensive R&D capabilities, tailored to meet the latest project requirements."
If you're attending, be sure to come and see Flamgard on stand 7-D9 (Welsh Pavilion).
Back to News/Blog