BS EN 15650 and what it means for our fire dampers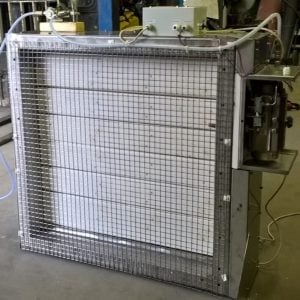 Spend five minutes on our website and you'll immediately get a feel for something that's close to our hearts: safety. It's not too melodramatic to say that our products are inherently purposed to avert disasters.
Their function is to stop the spread of things like deadly smoke, damaging fire or hazardous fumes, halting them in their tracks and localising damage when something goes wrong. That's why some of our high integrity dampers are used in emergency refuges on oil rigs, or in buildings where radioactive materials are manufactured.
So these are products where nothing should be left to chance. We manufacture to incredibly high standards of precision – always have – and now we're showing our quality credentials with the achievement of British Standard accreditation for our fire dampers; specifically BS EN 15650.
Fire dampers are devices housed within ductwork that are designed to allow air to flow through in normal operation but then shut suddenly during the outbreak of a fire. They're fire-resistant and as such stop the fire from using the ductwork as a conduit to spread throughout the building – it's obvious that their fire resistance needs to be tested and held up to the highest recognised standards.
"BS EN 15650 is a standard which governs performance and requirements for fire dampers," explains Flamgard Calidair's managing director, Steve Edwards. "It's pretty extensive, covering everything from response time to corrosion protection; fire resistance to actuation. We know our customers depend on our dampers to do their job when called upon, so for them it's just a little extra reassurance that Flamgard's products are fit for purpose."
The testing regimen for BS EN 15650 includes ambient leakage, fire resistance, damper integrity and insulation as well as operational torque and damper flow rate testing. Sample products are type tested (subjected to a 10,000-cycle operational performance test) and then the manufacturing controls assessed to ensure consistent compliance with the standard.
Back to News/Blog