Chernobyl New Safe Confinement, biggest moving building in history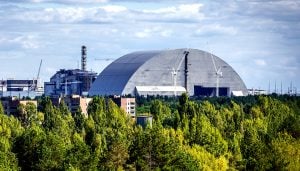 The Chernobyl New Safe Confinement (NSC) is the world's largest moving building, designed to create a sealed perimeter around the radioactive area that still remains following the well-documented 80s disaster. We are proud to say that we recently completed our high integrity nuclear damper project, helping to make the NSC a success and Chernobyl a safer place for the future.
In 1986 an industrial accident at the Chernobyl nuclear power plant in what is now Ukraine caused a huge meltdown, explosion and fires. This led to six tonnes of nuclear material being released into the atmosphere, with at least 4,000 people known to have died as a direct result, with the incident leaving the neighbouring town of Pripyat totally unoccupied to this day.
Flamgard was tasked with supplying all the supper high integrity dampers on the NSC building, to ensure the safety of the people working in the area and allowing for absolute control of airflow throughout the building.
We fitted the NSC building with our highly regarded nuclear grade isolation, fire and shut off dampers. These dampers are designed to provide shut-off through closed blades, even when subjected to high pressures.
This guaranteed the safest working environment possible given the nature of the project, and the obvious risks involved.
Our work on this massive €1.5 billion project shows our ability to cater to clients and projects where the sheer scales involved might deter other companies.
A commendation from the client stated: "All the works were completed in accordance with the contractural requirements, technical documentation, as well as the applicable regulations and standards.
"We hereby recommend the company Flamgard Calidair Engineering Limited as a contractor which guarantees high performance and quality of works."
To see the full letter of commendation, click here.
Back to Projects