Chernobyl project up for the UK Export Excellence Award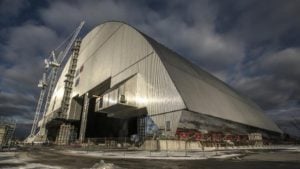 We're honoured to have been nominated for a UK Export Excellence Award by the leading industrial publications The Manufacturer and Global Trade Review.
The UK Export Excellence Awards recognise the "cream of UK exporters across a range of sectors and geographical regions" and our nomination is in direct response to our work on the complex New Safe Confinement project at Chernobyl.
The project consists of a huge domed structure, erected away from the hazardous site and then wheeled into place over the top of the old reactor and associated buildings. This reduces harmful emissions from the area and provides a safer and more controlled environment for decommissioning works. Flamgard supplied high integrity dampers to the site and went through a fairly lengthy process to ensure it was able to work internationally with consortium client Novarka.
To fulfil the contract, Flamgard required additional finance to issue an advance payment bond, a common challenge for exporters. It was able to secure this through its bank, Lloyds, while a guarantee from UK Export Finance meant there was no requirement for a deposit.
"This is a major international contract for Flamgard, which we were able to undertake with the support of UK Export Finance, the Welsh Government and Lloyds Banking Group," explains Flamgard Calidair's managing director Steve Edwards. "The support we received from government and the private sector has helped us to win big in a global marketplace, and we think this project represents a great advertisement for the quality of specialist British engineers and manufacturers."
Welsh Government Cabinet Secretary for Economy and Infrastructure, Ken Skates, added: "Flamgard is a highly innovative company with a global reputation for excellence. It is a world leader in the supply of safety critical devices and a great example of the expertise we have within the advanced materials and manufacturing sector in Wales."
The award winners will be announced on June 15th 2017 – Flamgard has been nominated in the category Best use of UK Export Finance.
Back to News/Blog