Damper test turns up the heat to 1,300 degrees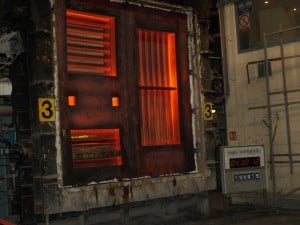 Flamgard's fire dampers have passed the toughest of tests for their fire resistance. The H120 rating is unique to Flamgard dampers, meaning they can resist a hydrocarbon fire at 1,300 deg C for two hours.
With a H120 rating, Flamgard's fire dampers can now be specified with confidence for offshore gas and oil exploration, and commercial and naval marine applications. The test ensures the dampers will provide fire resistance in the most dangerous of environments, wherever flammable materials or dangerous vapours could be present.
The unit actually tested measured 2 metres by 2 metres, which is believed to be the largest single damper unit of this size, available to meet these challenging conditions.
The test of the Flamgard dampers was carried out at the Building Research Establishment's Watford premises, the only testing house in the UK that could generate the required temperatures for the duration of the test time.
Back to News/Blog