Dampers provided for offshore platform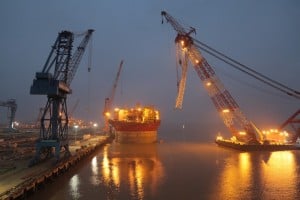 Flamgard has recently delivered key components for a floating production storage and offloading (FPSO) unit to be delivered to oil fields in the Western Isles, deep in the northern North Sea.
Fire and shut off dampers were ordered for inclusion in the construction of the unit, with the Flamgard dampers being selected on the basis of their high quality, price and the experience the company has in delivering units for operation in harsh, marine environments.
Once in place and operational, the FPSO will be handling large volumes of oil and gas, creating a potentially dangerous environment. In such circumstances, Flamgard's reputation for designing and manufacturing highly reliable damper units is a vital consideration, as those working around the unit need to be kept safe, should an incident occur.
The FPSO will sit in the middle of five production wells, in an offshore setting with the seabed around 160 metres deep. Designed by Sevan Marine, it features a cylindrical design. It will be operated by Dana Petroleum, while the original structure of the FPSO has been constructed by Chinese company COSCO.
The unit is scheduled to come on stream in late 2017, when it will hold oil for shipping by shuttle tanker, and gas for transmission by pipe to the Tern platform.
Back to News/Blog