Electricity tunnels power up UK capital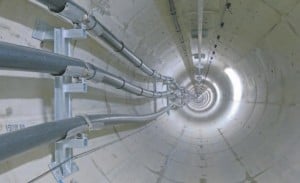 London Power Tunnels
Client – Costain and National Grid
Overview:
The London Power Tunnels are a multi-year project began in 2011 by the National Grid, to ensure the British capital has the power it needs into the future. A series of deep tunnels will rewire the capital, meeting the growth in energy demand and getting London ready for new, alternative sources of energy supply in the future.
Safety is a paramount consideration, as is the need to isolate segments of the tunnel, should there be any problems with cabling. Were a problem such as fire to occur, its impact would need to be minimized and contained urgently.
Outcome:
Flamgard designed, manufactured and supplied a range of products including fire and shut-off dampers, and split dampers. These were supplied in a modular format, to suit the restricted installation spaces within the design of the tunnels. Installation also included high tech intelligent actuators using controls designed specifically for the project. The dampers were tested prior to arrival at site, and again once installed.
Back to Projects