Fire Dampers – Why Choose High Integrity?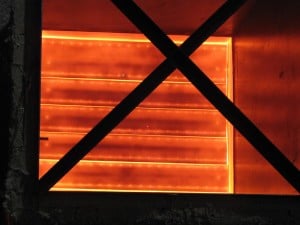 Anyone in the mechanical and electrical building services industry will know what a fire damper is. At their most basic they're fairly common installations in e.g. HVAC ductwork, designed to prevent the spread of flames in the instance of a fire. There are relevant standards governing their quality and the way they're used, as well as their proper maintenance, and they keep millions of building occupants safe on a daily basis.
Flamgard's high integrity offering takes fire dampers to the next level, making them suitable for applications beyond simple office buildings and the like. In fact, Flamgard Calidair has been manufacturing high integrity dampers for over 60 years to serve critical infrastructure such as the global petrochemical oil & gas, marine, nuclear, tunnel & metro and power generation market sectors.
In these demanding sectors it is even more imperative that fires not be allowed to spread, lest they cause secondary blazes or explosions, leading to greater danger to personnel, property and assets.
Our high integrity fire dampers can be supplied for building into steel decks or bulkheads, or for setting onto masonry, walls and floors. Available in light or heavy duty, they can be controlled by a range of control units, which can be supplied pre-insulated. The fire dampers are designed to maintain the integrity of the division at the point of penetration and should have the same fire rating as the division itself.
Our dampers undergo rigorous fire testing, high temperature testing, fatigue testing, blast testing, damper and component cycle testing and are all independently certified with Safety Integrity Level (SIL) ratings.
Our full testing/accreditation list for fire dampers:
Certified for A Class and H Class installations by Det Norsk Veritas, (DNV) Lloyds Register of Shipping, American Bureau of Shipping (A.B.S), Bureau Veritas (B.V), GOST R 55301-2009
EN 1366-2 tested for categories 'E' Integrity 'S' Smoke and 'I' Insulation
The Russian Foreign Activity Commodity Classification Code (TN VED Code): 7322 90 900 0
Maximum 4 hour fire rating accordance with BS476 part 20 maximum module sizes 2100mmx2100mm
Low leakage in accordance with BS EN 1751
NORSOK compliant
Independently SIL 2 certified
Low pressure drop
High temperature operation for smoke control
Back to News/Blog