Flamgard Calidair & Halton Marine: a strong partnership for heavy industry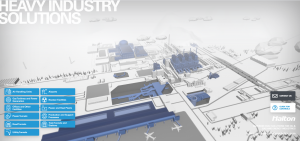 Halton Group, a global technology leader in indoor air solutions, recently became the majority shareholder in Flamgard Calidair in an acquisition which will see the two companies share experience and expertise in order to address key global challenges more effectively.
Flamgard Calidair is now strategically aligned with Halton Marine, a division of Halton Group which supplies HVAC solutions for ship building and energy industries, and the two companies are working together to promote sustainability and wellbeing in every area of their business.
By reassessing global trends and the development of key markets, Flamgard Calidair and Halton Marine have refocused their strategies in order to maximise positive impact in sustainability and wellbeing, with a particular focus on helping customers and stakeholders to achieve net-zero objectives.
Flamgard Calidair and Halton Marine will now place additional focus on heavy industry applications, especially sectors including nuclear, petrochemical, industrial and infrastructural. These sectors have been identified as areas in which significant strides can be made towards net-zero operations and wider sustainability.
This new focus is illustrated clearly on the Heavy Industry 3D World, which provides clients with a real-world visualisation of Flamgard and Halton Group's product offering while showcasing individual products and linking back to the main Halton website for more information.
The Heavy Industry 3D world showcases not only what Flamgard Calidair and Halton Marine can offer in a wide range of applications, but how customers can leverage the entirety of the Halton Group's expertise. Furthermore, Flamgard Calidair products are now also listed on the Halton Group website to make it even easier for customers to navigate the full range.
The Heavy Industry 3D World gives users license to explore the products and applications which matter to them.
Users can explore the group's comprehensive offering through a dynamic 3D experience, discovering products and benefits for nuclear applications, airports, power tunnels and much more.
The movement of people from rural areas into cities is an ongoing trend, and improving infrastructure and power frameworks will vastly improve the liveability of urban spaces. Moreover, the need for sustainable energy combined with developments in the petrochemical industry are likely to see more focus placed on hydrogen power for domestic and transport purposes in the future. Flamgard Calidair and Halton Marine will support businesses within these sectors with the transition towards safe and sustainable practices with bespoke, high-integrity damper solutions like the CID-01 Zero Leakage Damper.
Shuresh Maran, Business Development Director at Flamgard Calidair and Segment Director – Heavy Industry at Halton Marine, explained: "Bringing Flamgard Calidair and Halton Marine together strategically gives us the opportunity to share knowledge and experience, and ultimately make a bigger impact in terms of sustainability and wellbeing while continuing to supply a strong offering for heavy industry which supports safety in a wide range of sectors.
"We have refocused our priorities towards sectors which will be seeing significant growth or change in the coming years, and we are confident that we will be able to strengthen our position by consistently delivering real value in challenging markets to support clients with global manufacturing capacity, a wider product offering and fantastic combined R&D capabilities. What's more, this partnership allows us to take a truly global focus – in each of our target sectors, we'll be making a difference on a huge scale by providing even more support to our clients."
To learn more about how Flamgard Calidair will be working as part of the Halton Group, please visit: flamgard.co.uk/newsblogs/halton-group-becomes-majority-owner-of-flamgard-calidair/
Back to News/Blog