Flamgard dampers aboard the world's largest platform installation vessel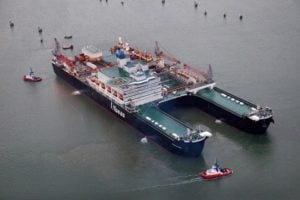 The Pioneering Spirit is the largest oil platform installation/decommissioning and pipelay vessel ever built, and its crew is kept safer by the installation of Flamgard Calidair's dampers.
The vessel is designed to lift the top structures of platforms into place by floating under them before lifting the top side onto the vessel via two vast extending forks, a feat of engineering that cost over $1bn to construct.
The Korean-built weighs an incredible 403,342 gross tonnes, is 123.75m wide and displaces no less than 900,000 metric tons.
Flamgard's reputation for manufacturing dampers to the very highest of international industry standards led to its appointment by Heinen and Hopman, the marine HVAC specialists tasked with fitting out the craft. Following design consultation this led to the ordering of 16 high integrity shut off dampers for use on the vessel.
Flamgard dampers are ideal for ensuring safety in engine and control room ventilation and also generator sets. They are applicable in systems designed to manage air intake in accommodation/cabin areas and our products are designed to operate in the most arduous marine conditions. Our record of reliability and high performance is supported by our Lloyds, DNV, ABS and BV certification.
Back to Projects