Flamgard deploys dampers for the all-new Riyadh Metro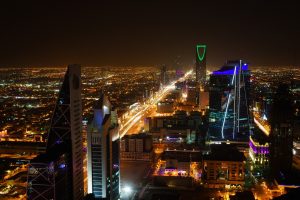 Background
Riyadh, the capital city of Saudi Arabia, is home to around 6 million people – a number which may rise to more than 8.5 million in the next decade. As part of an ambitious development initiative, the city commissioned a brand-new metro system to act as the centrepiece of its public transport system.
The Riyadh Metro, projected to open in 2020, will consist of six lines totalling 176 kilometres. Much of the metro system runs underground, including significant portions of lines one and two.
The solution
Due to the extent of tunnelling involved in the project, Flamgard was consulted regarding the maintenance of ventilation and air quality underground, and subsequently contracted to provide an effective HVAC solution.
It was essential that suitable conditions would be maintained in the instance of emergency, as well as day to day operation. Flamgard's CFD-02T tunnel damper was the perfect solution, capable of ensuring that smoke, fire and toxic fumes would all be effectively ventilated in order to keep staff and users of the metro safe.
Flamgard installed over 300 units of its flagship tunnel damper throughout lines one and two, delivered in 78 containers, each 40 foot in length. The dampers will manage ventilation control through the Riyadh Metro's two longest lines. In total, the project involved 55,000 production hours for Flamgard.
The CFD-02T tunnel damper is guaranteed to perform for up to 2 hours at 400oC, is fire integrity tested and endurance tested for 100,000 electrically actuated cycles. It is suitable for a wide range of installations, and can be customised to fit bespoke project requirements.
The Riyadh Metro is one of many ambitious underground projects being undertaken across the globe as the cost of tunnelling falls. Flamgard is well-versed in the safety requirements associated with tunnelling, and is poised to provide high-quality HVAC equipment for projects of all scales.
Shuresh Maran, Flamgard's Business Development Director, said: "We were very pleased to supply tunnel dampers for use in the Riyadh metro system. Tunnel applications pose unique challenges, and the Flamgard team worked closely with the client to ensure maximal safety for both personnel and infrastructure."
To learn more about Flamgard's HVAC offering, or for advice on tunnelling projects, get in touch with the team today using sales@flamgard.co.uk or 01495 757347.
Back to Projects