Flamgard launches specialist HVAC solution for marine environments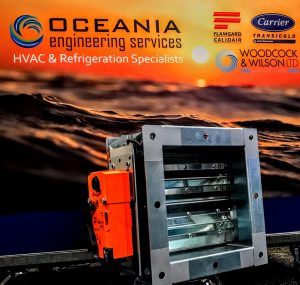 Flamgard Calidair has launched the CFD03 damper at Pacific 2019, Sydney, where the company is exhibiting alongside partner Oceania Engineering. CFD03 is an extension of Flamgard's existing fire damper range suited to Navy, maritime living quarters, cruise and ferry applications.
The product was initially previewed at the Abu Dhabi International Petroleum Exhibition & Conference in 2018.
The CFD03 damper is light-weight and low-profile, having been designed with naval and maritime installations in mind. The product is A60 rated, and will provide protection from cellulosic fires for personnel and equipment. The CFD03 damper is reliable and cost-effective, making it an excellent choice for HVAC systems in vessels of all kinds.
Shuresh Maran, Flamgard's Business Development Director, commented on the product's launch: "Flamgard has manufactured bespoke HVAC solutions for naval installations before, and it's an area for which we have the utmost understanding and respect. We believed it was time to create a fire damper designed specifically to suit ships' specifications, whether it be for military, commercial, or entertainment craft."
Flamgard Calidair is exhibiting alongside Oceania Engineering at Pacific 2019, Sydney, from October 8th – 10th. For more information on the CFD03 damper, or any of Flamgard's product, visit the team at Pod 9 at the event, or get in touch:
e: sales@flamgard.co.uk
t: (+44) 01495 757347
Back to News/Blog