Flamgard on site at the world's largest moving building – Chernobyl [UPDATED]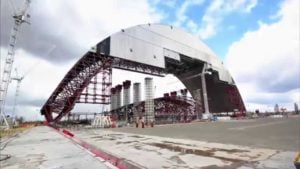 [Update 15/11/16] Time-lapse video on BBC website here.
[Update 12/10/16] Take a look at South Wales Argus' profile of our work at Chernobyl here.
[Original story continues]
The tragedy of Chernobyl has been so well documented that we won't dwell on the sad details too much. But while the neighbouring town of Pripyat is still an unoccupied ghost town exclusion zone, there is some hope for the future of the Chernobyl site as Novarka appoints Flamgard to a landmark remedial project.
Despite the construction of a concrete sarcophagus in the months immediately following the accident, the site still houses a good deal of highly radioactive material and attempts to work on its demolition are too challenging.
Therefore, a multinational initiative has conceived a dramatic solution that represents a true engineering marvel – and it's a marvel which Flamgard's damper products will be a part of.
The Chernobyl New Safe Confinement (NSC) is an incredible structure – a half-cylinder-shaped structure that will, upon its completion, be the world's largest moving building. The concept is almost child-like in its simplicity – when ready, the arched building will simply be rolled into position over the existing site before being sealed up.
It's not just a shell, however – there are entry points, engineering areas and access to the site inside, designed to facilitate monitoring and demolition of the disaster site. This is where Flamgard's dampers come into play, protecting these rooms and ventilation zones/ducts to minimise the risk of damage should an incident such as a fire or further explosion occur.
Flamgard's dampers meet all relevant European and Ukrainian legislations to be suitable for use on the site, placing us in a unique position to serve this €1.5 billion project, managed by international contractor Novarka (joint venture between Vinci Construction Grands Projets and Bouygues Travaux Publics from France).
"In engineering terms, there can be few live projects in the world right now that are as important and as ambitions as NSC," comments Flamgard's managing director Steve Edwards. "We've worked extremely hard to achieve the necessary certification to work on this site and we're delighted to be involved in this opportunity to really make a difference to the environment."
About Chernobyl incident
In 1986 an industrial accident at the Chernobyl nuclear power plant, Ukraine (then USSR) caused a meltdown, explosion and fires
6t of nuclear material released into the atmosphere
4,000 people known dead as a result
Neighbouring town of Pripyat currently unoccupied
A concrete sarcophagus was built around site within eight months to limit of radiation spread
Late 2017 is the planned date for installation of the Chernobyl New Safe Confinement building
The 108m high arched building will ensure the remains of the damaged reactor are safe and environmentally secure, controlling the solid waste left at the site for at least a century
Over 2,000 people are directly working on the project, 21 different nationalities are represented within the management team and there are 60 radiation specialists in place to ensure safe working conditions. The project is funded internationally.
Back to News/Blog