Flamgard Supports School Safety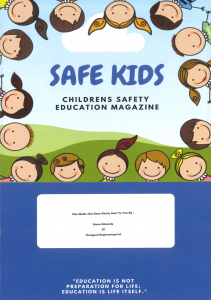 As a company that drives forward the highest standards of safety in the provision of high quality specialist HVAC (high integrity) dampers and associated equipment, Flamgard is proud to support a new initiative that aims to equip schools with resources that help to teach children a range of safety topics which are not currently covered by the core curriculum.
Developed by Safety Educational Media UK, 'Safe Kids' is a new children's safety magazine that covers issues such as online crazes, mobile phone safety and cyber bullying, alongside wider concerns including eating disorders, exam stress and coping with emotions.
By supporting the publication, Flamgard has helped to make the teaching aid available to local primary schools, which managing director, Steve Edwards, believes is an important part of the business' role in the community.
"Schools are under immense pressure to prepare our children to become responsible and safe citizens of the future, while at the same time delivering an education that enables them to fulfil their potential. 
"In our sector, safety is paramount and embedded in every aspect of our operations, which is why we wanted to support our local primary school in accessing resources which can help them to equip pupils with essential understanding on rapidly evolving issues which impact personal safety – not only online but in everyday lives," comments Steve.
Flamgard is one of many UK businesses putting their support behind this project, which seeks to provide schools with teaching aids that address safety-related topics outside of the main curriculum.
To learn more about supporting the educational safety initiative please visit: https://www.semukltd.com/
Back to News/Blog