Flamgard tunnel dampers selected for new Riyadh Metro in Saudi Arabia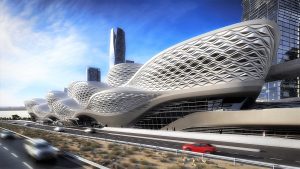 Flamgard Calidair has been appointed to supply tunnel dampers to the landmark Metro project in Riyadh, Saudi Arabia.
Flamgard's aspect of the project covers lines 1 and 2 of the prospective underground network, forming a part of a six-line metro that will feature 85 stations across over a hundred miles of track.
Working with the BACS consortium – a group of businesses responsible for the design and construction of the two lines – Flamgard Calidair will be supplying tunnel dampers to help regulate the flow of air in the underground system, as well as providing protection in the instance of a fire. Tunnel dampers can be used in emergency conditions to extract toxic fumes and smoke away from the critical area as well as providing a fire barrier when closed (in temperatures of 400°C for up to two hours).
Line 1 will run north to south underneath the centre of Riyadh, featuring 22 stations and four transfer stations where it will connect with other new metro lines.  Line 2, meanwhile, will run east to west and will feature graded and elevated sections along with 13 stations and three transfer stations.
Steve Edwards, managing director of Flamgard Calidair, comments: "Infrastructure projects like these can help to revolutionise transport, helping citizens, the environment and businesses alike. Riyadh is a fast-growing city and needs a modern transport system – we're proud to be helping to ensure it operates safely and smoothly."
The $23bn underground system forms part of a public transport project aimed at reducing the number of car trips within the city by as many as 250,000 per day, and will feature a completely automatic and driverless monorail system. It is due to open fully in 2021.
Back to News/Blog