Flamgard welcomes Eldridge as sole supplier to the Americas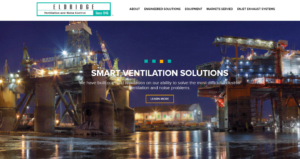 We're cementing a long and successful working relationship with the Texan industrial ventilation specialist Eldridge Ventilation and Noise Control by announcing its new position as our sole licensed dealer for both North and South America.
Eldridge Ventilation and Noise Control pioneered the field of mobile offshore drilling rig ventilation and serves customers across numerous industries such as marine, power, food processing and water treatment.
"The team at Eldridge is great to work with, and the company has long been a successful supplier of Flamgard's damper equipment," explains Flamgard's managing director Steve Edwards. "We've had such an excellent working relationship with them that it seemed to simply make sense to appoint them as our dealer for the region which they know so intimately."
Eldridge offers heavy duty, custom built dampers through alliances with quality U.S. and European manufacturers.
For more information about the company, click here and to learn its approach to supplying dampers, check out the relevant page.
Back to News/Blog