Glasgow goes green as waste plant takes shape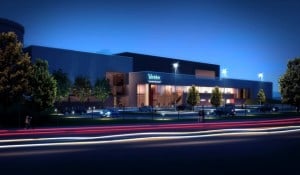 Among the finishing touches being fitted to Glasgow's new £154 million waste recycling plant are a number of dampers from Flamgard. The units have been included in air handling systems within the new building, in order to enable safe management and shut off of ducting.
The Glasgow Recycling and Renewable Energy Centre (GRREC) has been developed to handle up to 200,000 tonnes of the city's waste each year. In combination with split waste collections, the plant aims to divert 90% of household waste away from landfill. As recently as 2011, more than 70% of Glasgow's rubbish went to landfill, a figure the city council is keen to substantially reduce. Waste specialist Viridor will manage the facility for the council.
The plant will feature a three-step process covering materials recycling, anaerobic digestion of food and organic waste, and a conversion facility to recover energy from post recycled material.
Output from the new plant will include electricity and heat, providing enough power for 22,000 homes and warmth for 8,000. In combination, the energy delivered will displace the equivalent in fossil fuels of 90,000 tonnes of carbon dioxide output per year.
In total, the plant is expected to save the city council around £10 million a year, as well as providing 250 jobs on the Polmadie site, south of the city centre.
Back to News/Blog