Heralding HVAC success – Flamgard Calidair at ADIPEC 2019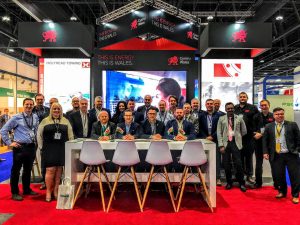 The Flamgard Calidair team recently spent time at the Abu Dhabi International Petroleum Exhibition and Conference (ADIPEC) 2019. The event, taking place 11th – 14th November at the Abu Dhabi National Exhibition Centre, saw Flamgard showcase its range of specialist HVAC equipment.
Building on its strong ties with local authorities, Flamgard exhibited on the Welsh Government stand alongside fellow suppliers from the region. With its pedigree in export business, Flamgard was well-placed to share the benefits of trading with Welsh organisations.
The team enjoyed a productive few days, attracting the attention of notable visitors including the Department for International Trade's Director for Energy and Infrastructure, Rodney Berkeley, and Daniella Carneiro, Oil & Gas Business Specialist. Simon Penney, HM Trade Commissioner for the Middle East, Afghanistan and Pakistan also stopped by Flamgard's stand.
Flamgard presented HVAC solutions from its fire and blast damper ranges; the CFD01 fire damper and BLD02 blast damper. Flamgard Calidair HVAC dampers are supplied in a range of sizes, are suitable for installations of all kinds and are rigorously tested to meet safety standards.
Shuresh Maran, Flamgard's Business Development Director, commented on the event: "ADIPEC was another brilliant opportunity for Flamgard to show what it has to offer to the energy sector. Our fire and blast dampers are designed to deliver safety for personnel and infrastructure, and we are committed to providing the best option for each and every installation. We are grateful to have appeared alongside the Welsh Government once again, flying the flag for Welsh business."
Experienced in providing safety equipment suitable for some of the world's harshest environments, Flamgard Calidair has proved its mettle when it comes to the design and manufacture of reliable HVAC dampers.
For more information on Flamgard's HVAC solutions, get in touch with the team today: sales@flamgard.co.uk
Flamgard's Business Development Director, Shuresh Maran (left), and CEO, Lee Bramald (right).
Back to News/Blog