Hitting the bullseye for the Archery Foundation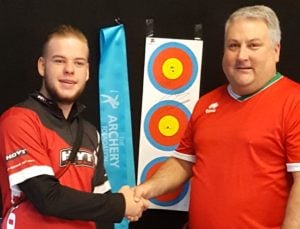 Unbeknownst to some, Flamgard's managing director Steve Edwards is something of a dab hand with a bow. While representing Wales in the Home Nations Tournament at the National Indoor Archery Championships on the Sunday, Steve was honoured to bear witness to a staggering 600 out of 600 performance from 'Mister Perfect', Mike Schloesser from the Netherlands (pictured left).
Schloesser was kind enough to sign the winning target face and donated it to The Archery Foundation – which supports community-based archery projects – to raise funds for the charity. Steve (pictured right) was the winning bidder and will be hanging the target face in pride of place in the Flamgard Calidair head office in Pontypool.
"I've long admired the work done by the Archery Foundation, and understandably it's a cause that's very close to my heart," comments Steve. "When this opportunity came up to own a little piece of toxophilitic history I just couldn't resist, and it was a pleasure to enable our business to contribute to the Foundation's amazing work helping the grass roots of the sport, especially in deprived and disadvantaged areas around the country."
Read more on the Archery Foundation website here.
Back to News/Blog