Honourable Recognition – Steve Edwards Awarded MBE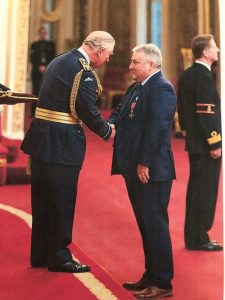 Flamgard Calidair Managing Director, Steve Edwards, has been awarded an MBE for services to British Economy and Exports.
Steve was named on the New Years Honours List for 2019, and has since received his investiture.
Commenting on how he feels about receiving the award, Steve said: "Surprised, humbled and – no pun intended – genuinely honoured. I feel this award represents the incredible hard work, dedication and innovation of the team here at Flamgard, and the support of my close colleagues Lee Bramald and Shuresh Maran. This team is what has driven our business forward and given us the international growth that led to this and the previous Board of Trade Award."
Flamgard Calidair is proud of the recognition that Steve has received for his hard work, which has elevated not only the company itself, but the British trade landscape as a whole.
High integrity dampers produced by Flamgard Calidair continue to uphold safety standards for people in challenging conditions across the globe, and have been used in major projects including the Riyadh Metro Project.
Back to News/Blog