International Trade Minister Visits Flamgard HQ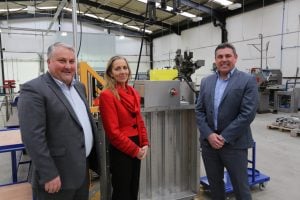 Flamgard Calidair was delighted to play host this month (March 2018) to Baroness Rona Fairhead, Minister of State for International Trade, as the minister toured our south Wales facility and discussed various international deals in the pipeline.
Flamgard directors Steve Edwards and Lee Bramald were lucky enough to meet the Baroness at the recent ADIPEC event in the middle East – The Abu Dhabi International Petroleum Exhibition & Conference – and extended an invitation for her to visit our manufacturing and engineering base, which she politely accepted.
A woman of her word, the minister got in touch shortly after and plans were made for a meeting and factory tour.
Lee comments: "following that successful meeting at the ADIPEC exhibition, the minister made a point to join us at our facility last week to review the exciting product developments we have underway in the field of high integrity dampers. She also provided an offer for help regarding our many export projects either currently underway or in the tender stage, which was greatly appreciated by all at Flamgard."
"It's great to see ministers getting involved in the day-to-day work required to bring British expertise and products to international markets," added Steve. "We were impressed by the Baroness' understanding of our situation in the industry and by her dedication to helping us maximise the potential of the global damper market."
Back to News/Blog