Investing in the workforce to secure long-term success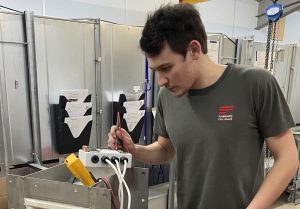 With over 40 years' experience in designing and manufacturing high-integrity HVAC solutions, Flamgard has developed a skilled and diverse team capable of supporting activity through a wide range of sectors. Everything that sets Flamgard apart, from our product range to our on-site expertise, is supported by a dedicated team ready to ensure that our customers receive absolute quality in product performance and service experience.
At Flamgard, we recognise the value of developing young professionals, both in terms of our own business and as a way of supporting our community in South Wales. In recent years, we have realigned our recruitment priorities and made a number of positions available to apprentices and young professionals. In line with this approach, we are striving to ensure that staff have access to personal development opportunities and are supported in advancing their own expertise.
Lewis Jones, who joined Flamgard in 2018 as a Research & Development Engineer, explained: "Engineering is a very competitive sector, and it's not always easy to find a position at such an established and global company. At Flamgard, we are given responsibility within our roles and the support we need to develop professionally. Personally, I'm glad for the opportunity and looking forward to progressing alongside the business!"
Recognising the importance of both academic and vocational prowess, Flamgard is also supporting Lewis with funding for a Master's degree in Engineering Project Management, which includes a dissertation focusing on simulating pressure drop in dampers.
Another recent addition to the Flamgard team is Rhys Smith, who was brought on board specifically to assist with the company's five contracts supplying a range of damper solutions to Hinkley C. As well as developing his experience in the nuclear sector, Rhys is well-positioned to support Flamgard with cross-sector activities.
Flamgard Calidair Managing Director, Steve Edwards, also sits on an apprenticeship task force based in South Wales. The programme gives young people the chance to complete a series of workplace placements in various companies within the engineering sector, in order to help them develop a holistic perspective and varied skillset during their education.
By investing in the workforce through progressive recruitment and continuing professional development opportunities, Flamgard is building from a position of strength towards sustained long term success.
Interested in how our team could support you? Get in touch to discuss your next project: https://flamgard.co.uk/contact/
Back to News/Blog