A little help for Chernobyl's children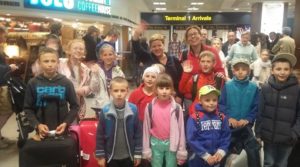 When the Chernobyl reactor disaster occurred, the effects weren't just limited to those on site, or in the neighbouring Pripyat. Fallout spread across Europe, concentrating in an area stretching many hundreds of miles particularly to the north and west of the Ukrainian town.
Now, decades on, the effects are still felt in many different ways, but the children born since are often forgotten by the world at large. Thankfully a Cumbrian charity is actively helping out by, once a year, bringing a group of disadvantaged children from the region (most recently Belarus) over to Cockermouth for respite, to enjoy life in the UK for a short while. The charity – Friends of Chernobyl's Children (N&W Cumbria) – organised such a trip in June of this year, with Flamgard offering to pay for their transfers to and from Manchester airport to the tune of £500.
"We became involved with this wonderful charity after working on the Chernobyl New Safe Confinement project," explains Flamgard's managing director Steve Edwards. "It's incredible to see just how much we're able to offer these children in the UK, and it's incredible how many people have gotten together to house and look after them for just one month of wholesome Cumbrian air, good food and proper dental attention."
If you'd like to help the charity out yourself, please take a look at its website: www.focccumbria.org
Back to News/Blog