Lynx Turning Centre boosts in-house capabilities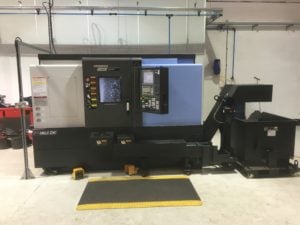 Quality and expertise are the hallmarks of our product offering. We're not just known for our great customer service – it's for our technical nous (backed up by numerous accreditations and certifications) that our customers return to us time and time again.
To help boost that technical side of our business, we're speeding up our production process with the acquisition of a new Doosan Lynx 220 LSYC CNC turning machine.
The new high-tech lathe machinery will enable us to guarantee the highest accuracy across our damper manufacture, while offering a new level of speed for our production process.
The Lynx 220 offers:
High-precision heavy duty cutting enabled via high-speed, high-power spindles
Shorter turning time enabled via servo turret indexing motor and high-rigidity roller-type LM guides
User convenience improved via an ergonomic control panel, USB ports and control panel rotation
Manufacturing of diverse pieces with complex structures via the added Y-axis; shorter turning time
"Equipment such as this represents a fairly sizeable investment," explains Flamgard's Managing Director Steve Edwards, "but our order book is strong and our customers literally demand the best. This machine will speed up our production capacity and will ensure the very highest standards of accuracy and precision. For our business it's the perfect fit."
Back to News/Blog