Maintaining maritime safety – Flamgard Calidair at Pacific 2019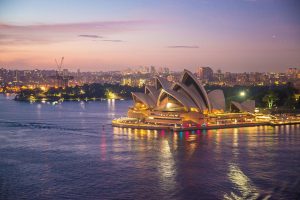 Flamgard Calidair recently visited Sydney for the Pacific 2019 International Maritime Exhibition, where the company showcased its specialist HVAC offering and continued to strengthen its partnerships in the region.
Flamgard exhibited alongside Oceania Engineering, a local partner with experience in the HVAC market. Together, the two businesses bring exceptional engineering expertise and the capacity to deliver advanced HVAC solutions. Oceania Engineering is Flamgard's partner for marine and oil and gas projects.
Flamgard also met with infrastructure, tunnel and metro partner Air Solutions, and engaged in positive discussions focusing on innovative projects in the greater Sydney area.
Shuresh Maran, Flamgard's Business Development Director, commented on the visit: "I'm glad to have had the chance to showcase what Flamgard has to offer at Pacific 2019, but equally important is speaking to local businesses and encouraging knowledge transfer. It's important that we work with local experts in the region, and we have strong relationships with some of the best."
During the event, Flamgard unveiled the CFD03 fire damper, an extension to its existing range designed especially for Navy, maritime living quarters, cruise and ferry applications. The CFD03 damper is lightweight, low-profile and cost-effective, qualifying it as an excellent choice for vessels of all kinds.
Through the launch of the CFD03 fire damper and the unity between Flamgard and its partners, the business seeks to increase its penetration into the naval market.
Flamgard's pedigree in delivering bespoke HVAC systems for use around the globe recommends the business to those seeking a specialist, professional service.
If you are interested in entering a regional partnership with Flamgard, please get in touch with the team to introduce yourself.
e: sales@flamgard.co.uk
t: (+44) 01495 757347
Make sure to learn more about Flamgard's existing partners through their respective websites:
Oceania Engineering Services: www.oceaniaeng.com
Air Solutions: www.airsolutions.com.au
Back to News/Blog