Major UK aircraft carrier features Flamgard dampers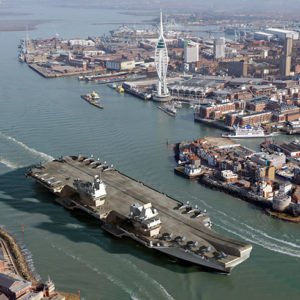 Background
Flamgard Calidair has a proud history of serving the defence industry, and is now proud to announce one of the new aircraft carriers in the fleet of the British navy features its dampers.
The provisionally-named HMS Prince of Wales is the second of the UK's Queen-Elizabeth class aircraft carriers, weighing in at 70,600 tonnes with nine decks, two aircraft lifts, a hangar deck and large flight deck with ski jump. The ship is due for launch in 2017.
Overview
Working closely with client, Flamgard was able to supply products from its damper range that have a proven track history of successful installation in offshore and ocean-going structures, accredited to Lloyds Register of Shipping and other bodies.
The high integrity smoke and fire dampers are fitted to the turbine enclosures of the vessel, ensuring minimal spread throughout the vessel in the instance of a mechanical failure, fire or explosion on board.
Back to Projects