Managing modern change and disruption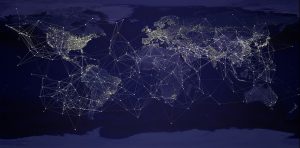 Over the past 12 months, businesses from across the globe representing numerous sectors have risen to unprecedented challenges, and in many cases adopted new ways of working in order to continue operating effectively – but this isn't the first time that unforeseen circumstances have affected the global market.
Change and disruption are among the only constants in business, and across its 40-year history, Flamgard has taken a strategic approach to mitigate these risks. In this blog post, we will consider a few of the key factors in Flamgard's resilience to change and disruption…
Broadening the market
From our headquarters and main facility in South Wales, we have built an ambitious platform for export trade. Flamgard has supplied HVAC solutions for applications across the globe including the USA, Asia Pacific markets and even some of the world's most hazardous environments, such as the exclusion zone around the failed Chernobyl reactor. By working on a truly global scale, Flamgard is insulated against regional fluctuations in trade and demand.
Diversifying sector activity
Early in Flamgard's journey, we focused predominantly on the energy sector, supplying high-integrity HVAC equipment for both onshore and offshore facilities. In recent years, we have strengthened our position in nuclear and tunnelling sectors, and have gone on to secure significant contracts in association with the Hinkley C development and the new Riyadh Metro system. By operating across a variety of sectors, Flamgard is not at risk of instability in any one area.
Building strong partnerships
We have made it a priority to forge lasting, mutually beneficial partnerships which help to ensure business continuity for Flamgard. Recently becoming part of the Halton Group, Flamgard is able to share experience and expertise with true leaders in the field. We have also worked closely with UK Export Finance, enabling the business to make significant investments in stock to support ambitious contracts while maintaining effective cash flow.
Similarly, Flamgard has a long-standing relationship with Business Wales, taking part in trade missions to promote Welsh export business and elevate the profile of local businesses. To learn more about how Flamgard and the Welsh Government are aligning to tackle change and adversity through export trade, visit: https://businesswales.gov.wales/export/how-we-can-help/built-export
Flamgard has over 40 years' experience in designing, manufacturing and supplying high-integrity HVAC solutions, and has developed sustainable working practices which mitigate the risks of change and disruption in the modern market.
To learn more about Flamgard's pedigree in export trade, or to discuss your HVAC requirements, get in touch with our team using: sales@flamgard.co.uk
Back to News/Blog