Meeting with Ministers – Flamgard flies the flag for the local SME sector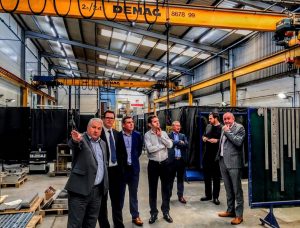 Flamgard Calidair recently welcomed government ministers and local authority councillors to its headquarters and production facility in South Wales.
Lee Waters, Deputy Minister for Economy and Transport; Dawson Evans, Group Leader for Economy, Culture & Regeneration; Anthony Hunt, Leader of Torfaen County Borough Council and Dave Leech, Head of Economy & Skills at Torfaen County Borough Council spent time with Flamgard staff on-site to discuss the local SME sector.
The group was shown around by Steve Edwards, Flamgard's Managing Director. Commenting on the visit, Steve said:
"Flamgard has always endeavoured to take an active role in the community, so we are always happy to welcome local authority members and government ministers. We discussed the strengths of the SME sector in our area, and what we can do to lend more support. I'm glad to say our conversations were very productive!"
In partnership with local authorities and other progressive local businesses, Flamgard is looking to help create an industry-lead apprenticeship program for the region to help young people develop skills, and boost innovation and productivity in South Wales.
Flamgard Calidair produces bespoke, high-quality HVAC equipment for use all around the globe. The company, based in South Wales, is proud of its success in bringing Welsh products to the international market.
Back to News/Blog