Monaco upgrades keep tunnels in tune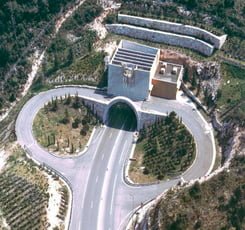 Client – Escota and Cegelec
Overview:
The famous city state of Monaco nestles between mountains and the sea, so many of the main access routes pass through road tunnels. Having been built in years past, many are now heavily used and are an essential part of the local infrastructure. As a result, any maintenance needs to be carried out with minimal interruption to traffic, often during temporary overnight closures.
Autoroute operator Escota has rolled out a safety upgrade to all the tunnels in the Monaco area, installing new safety systems and equipment including lighting, CCTV equipment, air handling and fire safety equipment. With the tunnel used both by traffic and also pedestrians, the need to ensure consistently good air quality is vital.
Outcome:
Flamgard supplied fire shut off dampers for installation as part of the tunnel upgrade. With road closures tightly restricted, and no local storage available, a carefully planned delivery programme was necessary to ensure equipment arrived on site precisely when it was needed by installation crews.
Back to Projects