Nuclear-grade dampers need nuclear-grade welding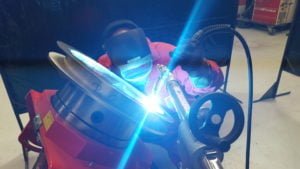 We've upgraded our in-house welding resource to add automatic welding systems. These systems allow for incredibly narrow tolerances in quality and precision of welds; factors that are vital when one needs to operate at internationally-recognised welding standards such as:
BS EN ISO 9606-1 (to which our welders are qualified) and BS EN ISO 15614-1 (to which are welding procedures are accredited).
"We're doing more and more work with the nuclear industry, and we're supplying more and more dampers to customers who have to deal with radioactivity as a day-to-day risk," explains Flamgard Calidair's managing director, Steve Edwards. "That means we need to be able to truly guarantee the quality of our products to the very highest of standards, and it's why we've invested in this automatic welding setup to remove even the smallest risk of error when putting together our market-leading fire, blast and isolation dampers."
Our nuclear-grade isolation dampers have recently proven valuable to the New Safe Confinement mobile structure at Chernobyl, and even in the St Thomas' Hospital PET scanning setup.
Steve adds: "Flamgard has worked hard to perfect its nuclear-grade welding, reducing cycle times and improving our overall project lead times. This in turn leads to improved costs to our clients, too."
For more information on Flamgard's highly-regarded isolation dampers, which meet EN 1751 and NORSOK standards, please click here.
Back to News/Blog