Parisian road tunnel challenge solved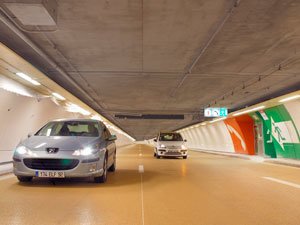 A86 Paris
Client – GDF-Suez
Overview:
The A86 autoroute is the second ring road around the French capital city, Paris, running further out from the centre than the more well known "Peripherique". The circular route is similar in length to London's north and south circular roads, though much of it has been constructed more recently. The road includes one of the longest urban road tunnels ever built, a 10 kilometre long tunnel that features the two carriageways located one on top of the other.
All traffic tunnels present the challenge of planning for vehicle incidents, the most dangerous of which is fire. Smoke must be removed from the tunnel, while refuges and exit routes need to be fed with fresh air, to enable safe escape for trapped drivers. In the case of the A86, its length presented additional challenges.
Outcome:
Flamgard designed, manufactured and installed high temperature ventilation dampers along the tunnel's route. To prove without doubt the systems would work as designed, they were tested after installation by the French fire authorities, who arranged a carefully managed real fire inside the tunnel, setting light to three vehicles.
Back to Projects