Q&A: Adding value with Site Services Manager, Ian Brown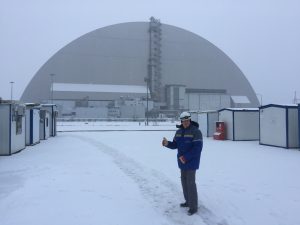 Flamgard Calidair has been supplying specialist dampers and high-integrity HVAC equipment to numerous sectors across the globe for more than 40 years, and for over 10 of those years, Site Services Manager, Ian Brown has been a key member of the team – delivering on-site support for some of our most ambitious projects.
Between site visits, Ian took the time to talk about his role and what it means for Flamgard customers in a quick Q&A…
Tell us about your background, and how you came to join Flamgard…
I've spent a great deal of my career in the HVAC sector, and I've built up extensive experience and knowledge relating to damper products. In fact, before I joined Flamgard I had a role at Calidair Engineering – it was during the merger in 2007 that I became part of the Flamgard team.
I've held a variety of roles, both on the technical side dealing with product literature and damper controls, and then more recently I've taken responsibility for the company's on-site services.
I have a deep understanding of our products and what is required of them, and I enjoy being on site to ensure that our customers receive the support they need to get the most out of Flamgard solutions. It's crucial that both project managers and personnel have confidence in our solutions, and our on-site services are central to that assurance.
What sort of on-site support does Flamgard offer?
When it comes to on-site support and advice, no matter where you are, we'll get to you if you have Flamgard equipment.
We're here to help at every stage of the process, whether it's pre-installation commissioning, quality control during a product's lifespan or a site survey ahead of product renewal.
I think it's fair to say that the core of our support in this area lies within commissioning assistance and site surveys for system upgrades and improvements. It's rare that we'll need to conduct a warranty site visit, but in the unlikely event that your Flamgard solutions aren't performing as expected, we'll be available to help you find out why – this may be as simple as providing technical advice by phone, e-mail or video conference, or through a site visit. We believe the best way to help you make the most of our range is to ensure that our customers have access to on-site support.
In terms of site services, what sets Flamgard apart from the rest?
At Flamgard, we are both experienced and highly skilled. For example, I hold all the relevant qualifications and medical certification necessary to enable me to visit offshore installations by helicopter, and I have provided site services off of the Grand Banks in Canada and visited locations in the North Sea.
We've visited some of the world's most unique and hazardous locations to ensure that our customers receive absolute performance from our products, including the exclusion zone surrounding the failed Reactor No. 4 in Chernobyl.
Of the sites you've visited, are there any personal highlights?
I would have to pick out Chernobyl as something special. As well as assisting with commissioning for the project, we supplied over 1,000 dampers for installation in the New Safe Confinement structure, including fire and control dampers as well as balancing and non-return dampers. It was an extensive and ambitious project, and the outcome was extremely impressive.
I don't think there's many that can say they've been inside the exclusion zone, and it was truly a unique experience!
When you purchase Flamgard Calidair solutions, you can be confident that you will receive all of the support that you need to guarantee performance in the long term.
Our technical team is ready to discuss your requirements, and you can rely on effective on-site support where necessary. Get in touch today to discuss your next project: sales@flamgard.co.uk
Back to News/Blog