Q&A: Upholding standards with Quality Manager, Dan Wyness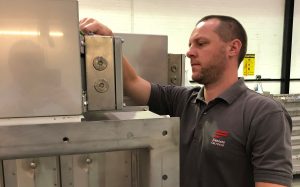 Flamgard Calidair has been supplying and installing high-integrity HVAC solutions across the globe for over 40 years, and the company's portfolio includes projects in some of the most hazardous environments on earth. Flamgard's damper solutions are carefully designed to support on-site safety for personnel no matter where they are installed, and it is essential that those individuals have absolute confidence in the quality and reliability of Flamgard products.
For Flamgard, this means that quality assurance is a major priority – and one that is overseen by Quality Manager, Dan Wyness. In this blog, Dan joins us for a Q&A about his role…
Dan, tell us a little about your background and what brought you to Flamgard…
I've been involved in quality management throughout my career, starting out on the shop floor carrying out tests and inspections. Before moving to Flamgard, I built up a great deal of experience in consumer electronics and the technology sector which stood me in good stead for the technical requirements of the engineering industry.
Since moving to Flamgard I've held a few roles, all around quality assurance, which ultimately led to me taking up the role of Quality Manager. It comes with a lot of responsibility, but it's one that I truly enjoy and I'm glad to be making a difference in such a forward-thinking company!
Can you take us through what your role entails?
Well, 'Quality Manager' is certainly a good place to start. A large portion of my role comes down to coordinating and ensuring quality throughout the manufacturing process, both on a macro level and for individual projects. I head up a team, and we conduct extensive non-destructive testing (NDT) and weld inspections to ensure that our products always meet or exceed safety standards.
One of my main objectives lies in maintaining relevant industry certifications, such as ISO 9001:2015 Quality management systems (QMS). This accreditation is essential for demonstrating quality and consistency to our customers, who need to know that the products they receive will perform as expected.
We are audited approximately every eight weeks on average to maintain our ongoing certifications for various products. The certifying authorities we work with include ABS, DNV, Warrington Fire (Element Group), Sira (CSA Group), and occasionally our customers. So, we must be diligent in our preparation and ongoing management.
What does quality management mean to your customers?
It's all about confidence, and proving product performance. By demonstrating compliance with industry standards and rigorously testing our products, we're giving our customers confidence that Flamgard's products will meet their requirements and continue to deliver value in the long term.
Our products play an important role in safety systems around the world, and there is simply no margin for error. Quality management means that where Flamgard products are installed, personnel and occupants benefit from reliable performance and peace of mind.
Would you say that quality requirements have changed across your career?
I don't think that there have been fundamental changes, but I think some of our main sectors have become more stringent from a safety perspective. Nuclear is one that I'd point to – what with the ongoing development of next-generation nuclear power plants, there are new industry requirements coming in to ensure that standards are met.
I'm proud to say that Flamgard has always strived to stay abreast of the latest quality and safety requirements, and we're looking at our manufacturing processes more closely than ever as we move forwards.
Can you pick out any highlights from your tenure at Flamgard?
The scale of some of our recent projects has been truly impressive. I've especially enjoyed being part of the team that supplied dampers for the Chernobyl New Safe Confinement building, and the Riyadh Metro project is another one that really showcases what this company can do. Those are particular highlights, because I think we performed phenomenally from a quality management perspective and the results speak for themselves.
Beyond that, I'm also really enjoying the work we're doing for Hinkley Point C, which is very much a live project. We've got a really exciting team here at Flamgard, and I'm keen to see what comes next.
If you'd like to learn more about our quality management procedures, don't hesitate to get in touch today: sales@flamgard.co.uk
Back to News/Blog