Recognising Flamgard's quality management systems through ISO 9001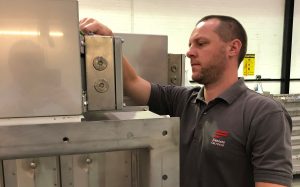 For over 40 years, Flamgard Calidair has been designing and manufacturing high-integrity HVAC solutions for sectors including nuclear, oil and gas, tunnelling and beyond. These sectors have stringent health and safety requirements, and each poses unique challenges for the installation and maintenance of HVAC equipment.
At Flamgard, we understand that it is vital for site managers to have confidence in their safety systems – which is why we strive for year on year improvement in both our products and our quality management systems.
Flamgard recently completed the ISO 9001:2015 'Quality management systems' audits through Lloyd's Register, and recorded a second consecutive year with zero non-conformities to the necessary standards.
This demonstration of company-wide consistency in quality management is more than just a recognition of the utmost quality standards – it represents peace of mind for on-site staff across the world, from project managers through to contractors.
Steve Edwards, Managing Director at Flamgard Calidair, said: "This accreditation is testament to the hard work and innovation of the whole team here at Flamgard. We are committed to ensuring excellence for our customers and supply partners, as well as those we work alongside in research and development. I'd also like to recognise the efforts of our diligent Quality Manager, Dan Wyness, who heads up our Product Control department and ensures that standards are maintained at every level."
To learn more about how Flamgard solutions can meet your health and safety requirements, get in touch with the sales team today: sales@flamgard.co.uk
Back to News/Blog