Stepping up safety standards – Flamgard's ISO 45001 success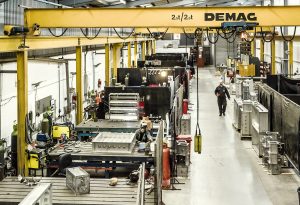 Flamgard Calidair's high-integrity HVAC equipment supports the health and safety of operating staff all around the world – even those working in some of the most hostile environments on the planet. Safety is at the core of our business, and making sure that standards are maintained throughout Flamgard's manufacturing process is pivotal. Our top priority is ensuring the safety and wellbeing of our employees, clients and supply partners at all times.
Flamgard is committed to complying with the latest health and safety standards and implementing excellent operating practices, which led the company to seek ISO 45001: Occupational Health and Safety Management Systems accreditation. Having previously achieved OHSAS 18001 accreditation in Occupational Health and Safety Management, ISO 45001 was the logical next step.
Utilising advanced technologies and refined management systems, Flamgard took part in two external audits to demonstrate quality health and safety practices throughout its business, and has since been awarded ISO 45001 accreditation.
Steve Edwards MBE, Flamgard Calidair's Managing Director, commented: "Health and safety is at the heart of all we do at Flamgard, and I'm proud that we now have ISO 45001 accreditation to showcase the standards that we uphold. I would like to thank all of the team that helped us reach this point, but especially our Health & Safety Manager, Phil Perkins, who coordinated our application.
Occupational health and safety standards have been under severe pressure in recent weeks, and our commitment to maintaining high standards enabled Flamgard to adapt quickly and effectively to ensure safe operation for all staff."
To learn more about how Flamgard supports the health and safety of operating staff worldwide, take a look at some of the projects the company has been involved in: https://flamgard.co.uk/latest-resources/projects/
Back to News/Blog