Stepping up ventilation standards for underground travel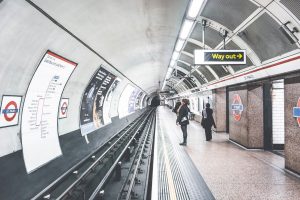 Underground and enclosed environments pose unique health and safety challenges, especially when it comes to ventilation. Where tunnels are used for travel, it is crucial that exhaust gases are efficiently removed and that consistent airflow brings in clean air to enable safe transit for passengers and site staff.
Ventilation solutions must also be able to ensure a safe environment in the instance of an emergency. Fires in tunnelled conditions can quickly generate toxic levels of smoke and hot gases, which much be extracted whilst maintaining a fire barrier to reduce spread.
Flamgard's flagship solution for underground environments, the CFD-02T tunnel damper, has been designed to address these challenges.
Striving for greater improvements in underground air quality, Flamgard has introduced Under Platform Extract Grilles (UPEs) to its range of solutions, delivering ventilation benefits that run deeper than traditional Sliding Plate Dampers.
Why choose Under Platform Extract Grilles?
Under Platform Extract Grilles can offer greater ventilation performance than Sliding Plate Dampers, and make for easier long-term maintenance – both of which are especially beneficial in platformed transport settings.
Generally installed below the platform, UPEs pull air from near the tracks, which is often the dirtiest area due to build-up of brake dust and exhaust fumes. This makes the ventilation process more efficient, leading to better air quality and higher overall standards.
Whereas traditional Sliding Plate Dampers must be opened and closed to manage airflow, UPEs deliver more dynamic control of gaseous intake. UPEs can easily be adjusted to generate greater airflow post-installation, making working on-site less challenging and ultimately reducing the need for maintenance downtime.
Flamgard has a wealth of experience in installing high-performing ventilation systems, and solutions including the CFD-02T damper and UPEs can be modified to meet exact specifications and sector-specific requirements.
To discuss ventilation solutions for your project, contact the team today by emailing sales@flamgard.co.uk or calling (+44) 01495 757347.
Back to News/Blog