Supporting safety underground: fire dampers for the Northern Line Extension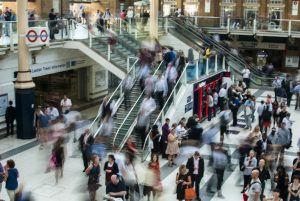 The project
Transport for London's Northern Line Extension is an ongoing project which will connect Kennington with Battersea Power Station through two new stations at Nine Elms and the power station itself. The Northern Line Extension also involves new shafts at Kennington Green and Kennington Park, and new cross passages at Kennington Tube Station – and the extension is set to be completed in Autumn 2021.
As well as providing an efficient transport option from the city centre to Battersea, the Northern Line Extension will contribute to a regeneration project within the local area, supporting the creation of up to 25,000 new jobs and 20,000 houses. Residents and local workers will have access to journeys from Nine Elms and Battersea Power Station to the West End which take as little as 15 minutes.
The creation of two new tube stations necessitated high-integrity HVAC solutions, including fire dampers as a key part of the safety outlook.
The solution
Flamgard was appointed as a HVAC solutions supplier following an inspection of the company's manufacturing facility. Main contractor Flo visited Flamgard's facility in South Wales and were impressed with the quality and efficiency on display, backed up by the company's recent ISO 9001 renewal and ISO 45001 accreditation award. Flo staff recognised Flamgard as an expert manufacturer, and had absolute confidence in the company's ability to deliver dampers of superior quality.
Flamgard supplied CFD-01 fire dampers and CCD-01 heavy duty control dampers for installation in the new stations for the Northern Line extension, capable of supporting safety during both day-to-day and emergency operation. The CFD-01 damper is Flamgard's flagship fire damper, and will prevent the spread of smoke and flames in the unlikely instance of a fire, enabling escape and the entrance of emergency services.
The Northern Line Extension is an active construction project, and Flamgard ensured a timed delivery of dampers to the site in line with the working schedule so that the development could continue smoothly.
Learn more about Flamgard's fire damper solutions by viewing the range online: https://flamgard.co.uk/products/?fire-dampers
Back to Projects