Supporting tomorrow's engineers with apprenticeship placements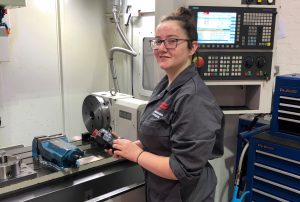 Building on the company's commitment to investing in the workforce, Flamgard is proud to welcome Erin Sculley to the team on a 3-year fixed term apprenticeship. Erin is completing a B-Tech qualification in Enhanced Engineering which will see her achieve Level 2 and Level 3 accreditation in Engineering.
As a first-year apprentice, Erin will spend 3.5 days per week on-site with Flamgard on top of one day per week spent in college to complement her workplace experience.
Erin will work alongside the manufacturing and engineering team on a wide range of projects, giving her experience in all aspects of the business. As her course progresses, Erin will have the opportunity to specialise her studies towards an area of her choosing, and Flamgard will endeavour to reflect this within her placement activities.
Steve Edwards, Managing Director at Flamgard Calidair, commented: "We're very pleased to be welcoming Erin on-board – a number of the management team here at Flamgard, myself included, had our first opportunities through apprenticeships, and we've wanted to offer similar placements for a long time now. Erin's attitude and willingness to get involved has been fantastic so far, and we're looking forward to supporting her throughout the duration of the placement."
To learn more about how Flamgard's talented team can support your next project, get in touch today to discuss your requirements by emailing sales@flamgard.co.uk or calling 01495 757347.
Back to News/Blog