Why we Test Seismic Integrity to IEEE 344-2013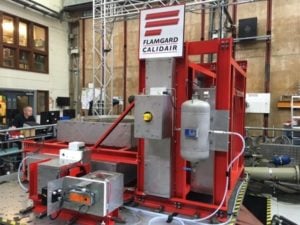 People rely on our dampers. They rely on them to perform to expectations that are truly demanding and they rely on them to perform no matter what the conditions; let's face it – if one of our dampers is activated, the chances are something less than brilliant is going on.
We've made a name for ourselves with our high integrity fire dampers, especially as people enjoy our testing videos and find reassurance in our rigorous certification. Perhaps less well known than some of our other testing protocols, Flamgard Calidair also undertakes seismic testing at our clients' request, using the gold-standard nuclear industry approved IEEE 344-2013.
Seismic testing is a way of assuring that our dampers will continue to perform as expected even under significant earthquake conditions.
"Our dampers are proven to work in even tough conditions like marine installations or busy underground tunnel environments," explains managing director Steve Edwards. "But we have to take account of freak occurrences too, and we can't let an act of nature such as an earthquake – which might itself cause fires or explosions – be enough to impair that operation."
The testing procedures operate to the latest industry standards in relation to the specific earthquake spectra relevant to the project at hand, as Flamgard's technical manager Tim Cook explains: "Seismic testing tends to be very specific to particular locations around the world. Each location will have a different magnitude and seismic spectra making them unique.
"It is for this reason that the tests are usually customer-specific and testing in accordance with one customer's requirements or location cannot normally be applied to another."
Back to News/Blog