Training improves production efficiencies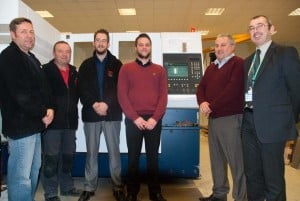 Four team members at Flamgard Calidair have been trained in state of the art laser cutter programming, with support from local authority Torfaen Council.
The training will mean the speed of production of the company's dampers can be increased by up to 50%, streamlining the company's south Wales production facility. Developing workforce skills is a key to the company's strategy to remain a world leader in the development and production of damper systems, used globally in safety installations across a range of key industries.
The bespoke training means the four members of staff are now fully equipped to use RADAN software, in the programming of a Trumpf 4KW laser cutter. The equipment plays a key role in preparing components used in the manufacture of Flamgard Calidair's range of dampers.
"The training and support we have received from Torfaen Council has been invaluable in allowing us to future-proof our production process," said Flamgard managing director Steve Edwards. "By continually developing our workforce to ensure that they are equipped to use the latest technology we can stay ahead of the game."
Torfaen arranged the staff training with support from the European Social Fund, through the Working Skills for Adults programme. "Flamgard Calidair is an extremely successful company but like all niche market businesses, they have to keep up-to-date with the latest technology," said Torfaen's employer engagement officer Paul Roberts. "By helping them to do this we are safeguarding highly skilled, engineering jobs in Torfaen."
Back to News/Blog