Zero leakage where it counts – Flamgard's CID-01 Damper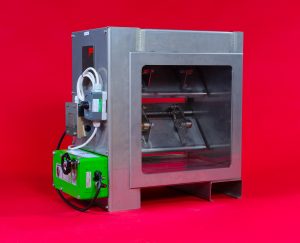 With over 40 years' experience in designing and manufacturing heating, ventilation and air conditioning solutions, Flamgard has developed high-integrity dampers for specific applications across numerous sectors.
The CID-01 Zero Leakage Isolating Damper is one such solution, and has been designed for applications in which total isolation of the airstream an absolute safety requirement. Meeting stringent shut-off requirements, the CID-01 damper lends peace of mind by ensuring comprehensive isolation performance and is backed up by Flamgard's company-wide quality and health and safety management accreditations.
The CID-01 damper is suitable for use in sectors including:
Nuclear
Delivers reliable shielding of irradiated air, enabling secure ventilation within new-build nuclear developments which must meet strict safety standards.
The CID-01 damper performs in irradiated environments, with decontamination considerations accounted for.
It is seismically resistant, and will continue to operate during and after tremors.
Hospitals
Suitable for hospitals, laboratories and pharmaceutical applications which require absolute particle containment.
Total isolation of contaminated airstreams makes for safe environments for staff and patients.
The CID-01 damper also enables the segregation of testing environments in laboratories.
Manufacturing
Effective ventilation of toxic or otherwise dangerous gases, guaranteeing safe working conditions.
Helps to regulate environmental contaminants, and reduce the emission of atmospheric pollutants.
Where hermetically sealed environments are necessary, the CID-01 damper ensures that no particulates enter the workspace.
To see more information about the CID-01 damper and to download its datasheet, simply visit the product page: https://flamgard.co.uk/product/isolation-retention-dampers/cid-01/
Back to News/Blog